Theo nguồn tin trên trang mạng house.gov của Nancy Pelosi
Mar 31, 2015 Press Release
Hanoi, Vietnam – Democratic Leader Nancy Pelosi and her bipartisan delegation concluded a two-day visit to Vietnam that focused on security cooperation, human rights and trade, given the pending Trans-Pacific Partnership (TPP) trade agreement currently under negotiation. The Congressional delegation met with American and Vietnamese business leaders, labor experts and activists, and human rights activists and representatives from Vietnamese civil society. The Members met Tuesday with National Assembly Chairman Nguyen Sing Hung where they discussed increased U.S.-Vietnam engagement following up on President Obama and President Truong Tan Sang's Comprehensive Partnership agreement. Later, the delegation met with Deputy Prime Minister/Foreign Minister Pham Binh Minh to discuss security cooperation issues in light of the 20th anniversary of the normalization of U.S.-Vietnam relations.
Lastly, the delegation was graciously received by President Sang where they discussed various topics including women's rights, food safety and freedom of expression and religion. Below is a transcript of Leader Pelosi's opening remarks made during a photo opportunity at the top of the meeting with President Sang:
"Thank you very much, Mr. President. You make us feel very welcome. We're honored to be with you this afternoon. We're happy to be in Vietnam. We have important work to do. I thank you for welcoming our distinguished delegation as well, and again, our pleasure to be with you and your distinguished colleagues as well. We were with the Ministry of Foreign Affairs earlier today. At that time, I said: 'We've been through a lot over the years, the United States and Vietnam – the last 20 being a big improvement.
"And we're so happy to be here at the time of observing the 20th anniversary of normalizing the relations. Many of the Members here were part of supporting permanent normal trade relations with Vietnam. As you may know, it was unanimous in the House of Representatives – almost unanimous in the Senate, but unanimous in the House.
"And in our delegation, we have a gentleman who has been to Vietnam many times, Congressman Mike Thompson, who was here during not so fortunate times years ago – a veteran of that war – but also returned a number of times, including with President Clinton when he was here in 1999. We are in a delegation that is bipartisan – Congressman Mike Fitzpatrick, who is with us from Pennsylvania; that is very senior – we have one of the most distinguished Members of Congress, Mr. Rangel, who will further our discussion; and one of the most junior Members of Congress, Mark Takai of Hawaii, who is with us. And I'll be acknowledging others as we go along.
"As I began to say, we've been through a lot together over the past forty years. And we come here at a time when we observe the 20th anniversary of normalization. And especially in the aftermath of your leadership with our President Obama, with the Comprehensive Partnership, we hope that this visit will be in furtherance of that dialogue and that partnership – as well as, again, the issues that we came to talk about: security, trade and human rights. They are connected, as you well know. We would love to get your insights on security in the region. We're going to talk about that as well as the TPP coming up, and some of the obstacles we have that we hope to overcome that relate to workers' rights, human rights, religious freedom and freedom of expression.
"Thanks to you, Mr. President, for your leadership, and to our President, Mr. Obama. We know that, regardless of what happened in the last 40 years, it improved in the next 20 years from there – 20 years ago – but in the future, the best is yet to come. On one of the challenges we face, though, I want to yield to our distinguished former Chairman of the Ways and Means Committee, Senior Member of Congress from New York, Mr. Rangel, to talk about trade."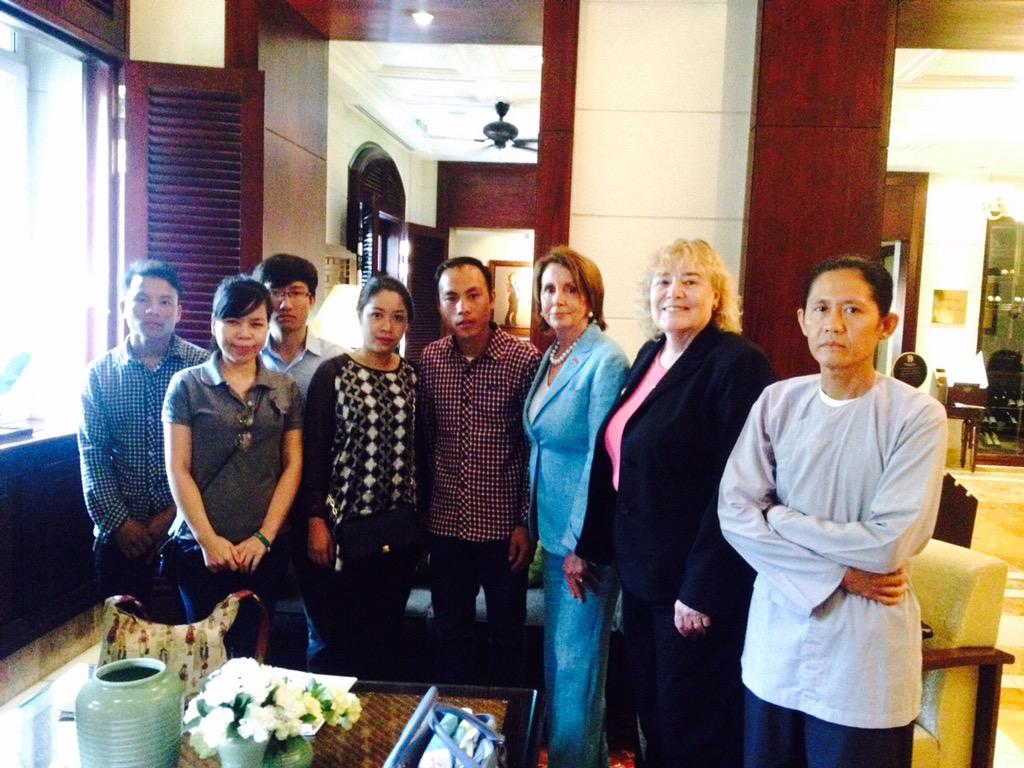 http://pelosi.house.gov/news/press-releases/pelosi-bipartisan-delegation-conclude-two-day-visit-to-vietnam