Starting Strong in 2015 with new distribution in Vietnam! GKhair Salon Professional hair care with Juvexin, a keratin anti-aging protein blend optimized for the hair to smooth and repair damage.
Theo nguồn tin trên trang mạng của prweb.com
Hanoi, Vietnam (PRWEB) January 11, 2015
GKhair and Thien An Cosmetics introduced GKhair for the very first time at the exclusive salon professional launch at the Pullman Hotel, in Hanoi, Vietnam.
Salon owners and stylists from the North of Vietnam attended to celebrate the launch of GKhair together with traditional live Vietnamese Dancers, and performances from celebrity singer, Minh Quan of Vietnam followed by hair cuts and step by step applications of GKhair's The Best Juvexin treatment. The Best Juvexin Treatment and the GKhair in salon services will provide the stylists in Vietnam a variety of new treatments to increase client retention and overall salon revenue.
The main stage showcased a couple of southern Californian hair cuts by Brain McCombs and precision cutting by Director of Education Mr Hung. These gentlemen utilized GKhair styling products on their models.
The exclusive event allowed salon owners to experience first hand the culture and lifestyle of GKhair products while meeting face to face the CEO of GKhair, Van Tibolli. Van Tibolli personally answered questions about the brand and technology of the treatments that have made GKhair the number one smoothing company worldwide today.
Connect with us!

Like- Facebook.com/GKhair

Follow- Twitter/Instagram

Watch- Youtube.com/GKhair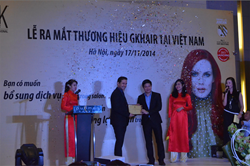 http://www.prweb.com/releases/2015/01/prweb12434462.htm