Theo nguồn tin trên trang mạng của prweb.com
Excerpt:
Hanoi, Vietnam (PRWEB) June 13, 2014
Vietnam Airlines – a member of Sky Team Alliance – has announced their new Big Summer 2014 campaign with many attractive deals on both domestic and international flights.
On the website http://www.vietnamairlinescorp.org, passengers will find many surprises waiting such as the following examples:

Online booking fares during June 2014 start from USD79/trip for Vietnam Domestic Flights.
Save on flights from Hanoi/Vinh/Hai Phong to Ho Chi Minh City and Hanoi/Ho Chi Minh city to Da Nang with fares starting at USD150 for round trip.
Special airfares to Europe with discounts up to 30% for booking during 16 May 2014 to 29 June 2014.
Golden moments for flights from Vietnam to South-East Asia (Hanoi – Bangkok, Hanoi – Kuala Lumpur, Hanoi – Singapore, Hanoi – Phnom Penh, Hanoi – Siem Reap, Hanoi – Yangon, …), purchase period is from 5-June-2014 to 15-June-2014, travel from 9-June-2014 to 27-August-2014 or 5-Sep-2014 to 31-Dec-2014, ticket price is only at USD39/way or USD59/way (apply with conditions)…
2 new services from Hanoi to Haneda (Tokyo) and … offer with unbelievable ticket prices at USD399/way, USD499/way (apply with conditions)…
Hurry up to fly with Vietnam Air and see how the fantastic flights are well organized.
"Grab it or lose it" – Vietnam Airlines' June 2014 promotions are ready for you.
Welcome to Vietnam by Vietnam Airlines!
Vietnam Airlines Corp

+84 93 234 1011

sales(at)vietnamairlinescorp(dot)org
Note: We are not responsible for typo error, price change, substitute item, or available of item from online ads.
Lưu ý: Chúng tôi không chịu trách nhiệm về lỗi ấn, thay đổi giá, hàng thay thế, hoặc có sẵn mặt hàng quảng cáo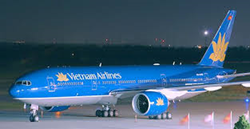 http://www.prweb.com/releases/2014/06/prweb11909086.htm